Prayers to Know God's Will Concerning Any Issue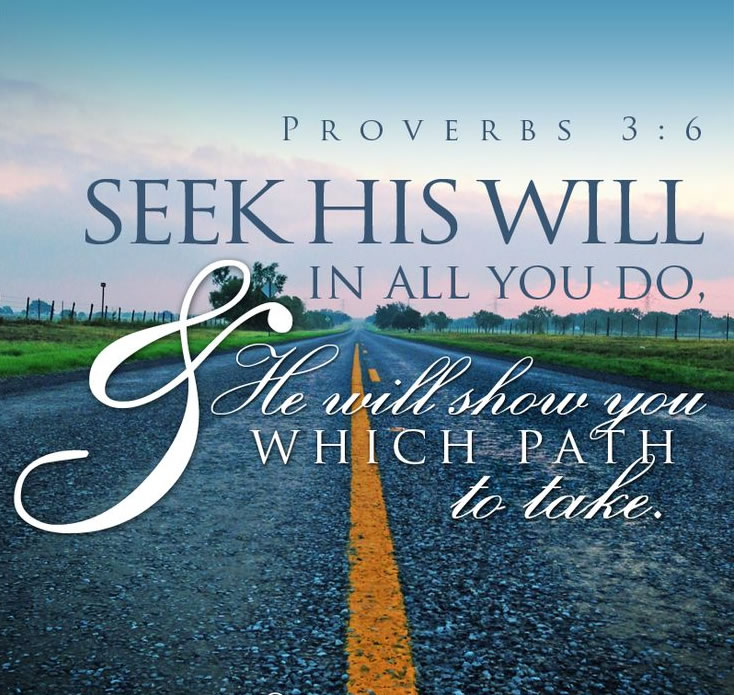 Memory Verse:
Seek his will in all you do, and he will show you which path to take. – Proverbs 3:6 (NLT)
Not All That Glitters Are Gold
In my last post, Taking the Right Decisions, I shared with you a personal story that happened to me some time ago. The reason I believe so much in praying through any decision is because it can be the difference between success and failure. It can be the difference between peace of mind and unexpected troubles. In fact, it can even be the difference between life and death, prosperity and poverty and so on.
In my book, Prayers that Break Curses, I talked about the curse of disobedience to divine signals. I stated clearly that I believe that this self-inflicted curse is the greatest curse in life. Let me tell you why.
In 2009, I registered a company, and in 2010, I went into a business partnership with two friends of mine. We decided to raise funds for trading. Our business plan looked good and we seemed so qualified for our business idea and direction.
It wasn't long before people started bringing funds to us for business. Our terms were that their capital were secured, no matter what. Things were looking so good that one could literally look at tomorrow and believe that we were made.
But there was a small problem. Inside me, the CEO of the company, I had this uncomfortable feeling that all was not going to be well. I was just uncomfortable about the whole arrangement – the partnership, the business, everything. I couldn't really see any physical reason for this "uncomfortability", because all seems to be in order. The money was coming in, people were responding to our business plan, we had spent days praying, fasting, and sowing seeds in different ministries for divine backing, so why the inner fear? Why the inner discomfort?
I called my friends and told them that we need to dissolve this business and refund our investors right away. I didn't have any other proof except that I know that this inner discomfort was a sign of danger ahead. Unfortunately, they looked at me like I was nuts. The accountant used figures to prove me wrong.
So we had to continue.
Fast forward, in 2011, we did some wrong transactions and that was it. We lost every fund with us. We wound up and ran into huge debts, followed with all manner of crisis. The investors, all of them, wanted their monies back. And so began a long fight that has lasted several years, a fight that only the grace of God is helping to see me through.
---
What Went Wrong?
As you know, there's nothing wrong with going into business partnership, or raising external capital for business. Nothing whatsoever. But the fact is that not all that glitters are gold. God is the one who knows our tomorrow better than our paper plans do. So submitting to Him is better than our smartness.
I also believe in giving, fasting and praying for spiritual breakthrough. But these acts cannot replace the place of obeying God's signals and direction. In fact…
We may give so much and yet not be blessed. We may fast and pray so much yet still be oppressed so much, especially when we knowingly or unknowingly ignore God's inner witnesses to us.
Don't ever forget these scriptures:
1. The horse is made ready for the day of battle, but victory rests with the LORD. – Proverbs 21:31
2. His mother saith unto the servants, Whatsoever he saith unto you, do it. – John 2:5
3.  There is a way that appears to be right, but in the end it leads to death. – Proverbs 14:12/
Proverbs 16:25

4. Seek his will in all you do, and he will show you which path to take. – Proverbs 3:6 (NLT)
This is a lesson I've learned the hard way. And now, if there is one prayer I pray every day, it is that I hear Him and submit to His will per time. This has also formed a very vital aspect of my teachings.
The world is a dangerous place to live. The devil is working hard to destroy humanity and cause people to go through all manner of pains (John 10:10), including Christians. But our God wants to protect us from all manner of dangers and the traps of the devil. However, only when we learn to submit to His direction can He help us have the abundant life that we desire
---
Learn to Pray Through All Your Decisions
Oh well, there are decisions we can take, like what to eat, what to wear and so many others that do not need praying through. But I believe that many of our daily decisions need praying through.
Don't take major decisions, like where to work, where to live, business to invest, who to marry, who to employ, etc, without praying through.
By praying through I mean spending time to pray, think and read scriptures until there is some assurance in your spirit to proceed or not about the issue in question.
Some times you may add some fasting and withdrawal and possibly take some days before coming to a decision on what to do. Whatever price has to be paid to take the right decision is definitely worth it.
Below I have provided you with some prayer points to help you pray through when trying to take decisions. You can use these prayer points to determine the following:
Whether a particular thing is God's choice for you.
To discover secret thing is God's choice for you
To receive revelation and knowledge on any issue.
To know the mind of God concerning a particular issue.
CONFESSIONS:
 He reveals profound mysteries beyond man's understanding. He knows all hidden things, for he is light, and darkness is no obstacle to him.  – Dan 2:22 (TLB)

 The secret of the Lord is with them that fear him; and he will shew them his covenant. – Psalm 25:14 (KJV)
---
Prayer 1: General Prayer Points
1. Thank God for the revelation power of the Holy Spirit.
2. Heavenly Father, to whom no secret is hidden, make known unto me the depths of this situation…..(mention the name of the thing) in Jesus name
3. O LORD, remove from me any persistent buried grudges, half acknowledged enmity against anyone and every other thing that can block my spiritual vision in Jesus name.
4. Let every idol personal opinions and conceptions present, consciously and unconsciously in my heart concerning this issue be melted away by the fire of the Holy Spirit in Jesus name.
5. O LORD, please give unto me the spirit of revelation and wisdom in the knowledge of you.
6. Remove spiritual blindness from my eyes henceforth in Jesus name.
7. O LORD, teach me the deep and secret things about this matter, in Jesus name.
8. I refuse to fall under the manipulation of spirits of confusion in the name of Jesus.
9.  O LORD, teach me to know that which is worth knowing, and love that which is worth loving, and to dislike whatsoever is not pleasing to Your eyes in Jesus name
10. Henceforth, I declare that I will not make foundational mistakes in my decision making in the name of Jesus.
11. Father in heaven, please make your way plain before my face in Jesus name.
12. God, You who reveals secret things, make known unto me Your choice for me in this issue.
13. Holy Spirit, open my eyes and help me to make the right decision.  Guide and direct me in knowing Your mind on this particular issue in the name of Jesus.
14. I stand against all satanic attachments that may seek to confuse my decision in the name of Jesus.
15. If….(mention the name of the thing) is not for me, O Lord, re-direct my steps.
16. In the Name of Jesus Christ, I bind the activities of ….
i) lust
i) ungodly infatuation
iii) ungodly family pressure
iv) demonic manipulation in dreams & visions.
v) attachment from/to the wrong choice vi) confusing revelations
vi) confusing revelations
vii) spiritual blindness and deafness viii) unprofitable advise
viii) unprofitable advise
ix) ungodly impatience.
17. I decree that I will not miss the mark over this issue and in my life, in Jesus name.
Thank You LORD Jesus for answering my prayers, in Jesus name.
---
Prayer 2: Prayer of Supplication
1.
"Father LORD, I thank THEE for You are my Shepherd. You will guide me in the right paths for Your name's sake. You will instruct me in way that I should choose. You will guide me always; and will satisfy my needs in a sun-scorched land and will strengthen my frame. You will make me like a well-watered garden, like a spring whose waters never fail. (Isaiah 58:11).
O LORD, I lean on THEE and thy promises for my life and therefore bring up these whole situations before THEE. Guide me in taking the right decisions that will bring Glory to Your name and safety to your people, in Jesus name.
---
2.
"LORD, I trust THEE with all my heart; and lean not unto my own understanding.  I acknowledge YOU in this time of need to take a decision; O LORD, according to THY Word, direct my paths, in Jesus name. (Proverbs 3:5-6)
---
3.
"You said that if any lack wisdom, let him ask and You will give Him (James 1:5). Lord, I confess that I lack wisdom to take the right decision without Your help. I confess that I lack the capacity to lead myself to the right place in this career, business, relationship and others. O LORD, please lead me and give me wisdom to decide rightly, in Jesus name.
---
4. 
"O LORD, this is the confidence that we have in YOU, that, if we ask any thing according to YOUR will, that YOU hear us (1 John 5:14).
You also said that my ears shall hear a word behind me, saying, This is the way, walk ye in it, when I turn to the right hand, and when I  turn to the left.(Isaiah 30:21) 
"According to Your Word, LORD, I ask according to Your will. Speak to me and bring to my knowledge the way that I should walk in this matter, in Jesus name.
---
5.
"Holy Spirit, teach me even now and at all times. I put my trust in You and believe that You will help me navigate through this moment and all glory will be to the LORD Jesus Christ, in Jesus name."
"Thank You Heavenly Father, I believe that You will answer and show me great and mighty things which I do not know in this situation, for I have called unto THEE according to Jeremiah 33:3. I take solace in Your Word and believe that I will make the right decision, in Jesus name.
---
NOTES:
1. Excerpts from the book: Prayers that Break Curses
2. Prayers from the book: Praying Through the Book of Psalms