Dreams, Interpretations and Deliverance Prayers.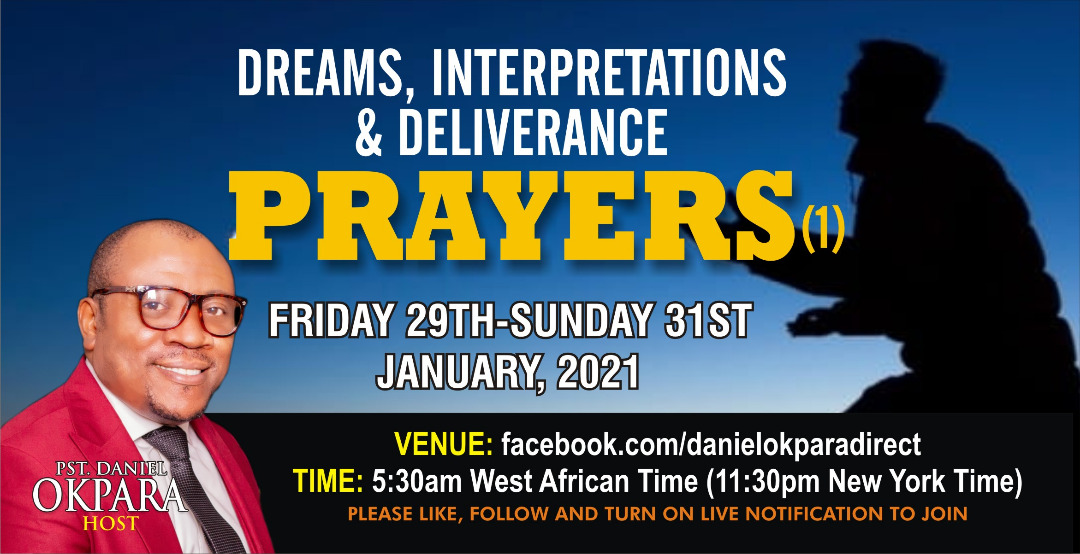 This update is about my hacked Facebook account and my upcoming program on Dreams, Interpretations, and Deliverance Prayers.
UPDATE ON MY HACKED FACEBOOK ACCOUNT
First, I want to say thanks to everyone who reached out to me regarding my hacked Facebook account. Thanks for your emails (so many caring emails), WhatsApp messages, and some calls.
From your messages, we learned so much. May God bless you.
Here's the Update: We wrote Facebook to take down the account since they refused to grant us access even after providing all manner of proofs. From what we can see, the account (facebook.com/danokpara) seems to have been taken down.
We will continue to observe and note any updates and changes and let you know.
For now, we've moved on. We've created a new Facebook page:
New Facebook Page Name: Daniel Okpara Ministries
New Facebook Page Url: facebook.com/danielokparalive
Rebuilding from scratch is not always easy. But I've learned to never complain about what I don't have and focus on what's available.
Please like and follow me on Facebook, as I share very powerful daily prayers, teachings and declarations on my Facebook page. You will enjoy my updates and they will help you obtain your breakthrough.
New Facebook Page Name: Pastor Daniel Okpara
New Facebook Page Url: facebook.com/danielokparalive
……………………………..
3 DAYS RETREAT ON DREAMS, INTERPRETATIONS, AND PRAYERS
I specially request that you join me in three days live audio broadcast on Dreams, Interpretations, and Deliverance Prayers.
During these sessions, I will talk to you about how to understand your dreams and use their messages to enforce your breakthrough.
As you know, dreams are one of the most powerful ways God speaks to us or allows us to see what the devil is doing in our lives so that we can develop the right prayer response.
Never ever joke with your dreams. They contain pictures of your past, present, and future.
In this 3 days retreat, I will show you from scriptures why and how dreams must be used to direct our prayers properly and enforce our deliverance and breakthrough.
Date: Friday 29th – Sunday 31st Jan. 2021
Time: 5:30 AM West African Time; that is, 11:30 PM New York Time
(Note: This time means that those with New York Time will join me on Thursday 28, 11:30 PM, as that will be my Friday 29th).
Venue: My New Facebook page
New Facebook Page Name: Pastor Daniel Okpara
New Facebook Page Url: www.facebook.com/danielokparalive
The last time I talked about dreams was eight months ago. During that time, I received hundreds of dreams from listeners, and people learned to use biblical symbols to understand their dreams.
If you've had a dream that you need some Biblical interpretation, feel free to share them with me during the broadcast, as we will be using case studies from listeners to explain our Biblical points. You can also reply to this email and share your dreams with me ahead of the broadcast so that we can pray and discover the meaning before the broadcast.
Here are some facts you should always know about dreams:
=> Your dreams are interpreting your present challenges and showing what to do about them.
=> Your dreams are showing you the right prayers to pray so that you don't keep praying amiss.
=> Your dreams are bringing some clarity to your many requests.
=> If you don't always remember your dreams, the devil is robbing you of essential spiritual direction.
=> The first and most important rule about understanding your dreams is this: If you have a similar dream more than once, or twice, you need to pay serious attention.
=> Always write down your dreams.
=> Never trust dream interpretation from the internet, Google search, or social media.
=> Learn to look for Biblical symbols in your dreams
God wants us to learn about dreams in a positive and Biblical way so that we can listen to Him and enjoy His promises of protection, provision, and peace.
I look forward to having you in the audio broadcast.
Pastor Daniel Okpara
Facebook: facebook.com/danielokparadirect
For: Betterlifeworld.org
…………………………..
RECOMMENDED BOOKS OF THE MONTH
1. Dominion 2021: Prophetic Declarations, Prayers, and Decrees to Command the Year
2. Dominion 365: Everyday Prayers and Prophetic Declarations for All Round Victory, Protection, Healing, and Breakthrough
3. Home Deliverance: Prayers to Get Rid of Demons, Close Evil Doorways, and Command God's Blessings and Breakthrough in Your Home
4. Prayers to Find a Godly Spouse: Meditations, Prophetic Declarations and Biblical Foundation for Finding a Life Partner
5. Demonology 101: Demons, Spiritual Warfare, and Self Deliverance Prayers
6. No More Witchcraft: 7 Days Spiritual Warfare Prayers to End Witchcraft Activities
7. 7 Days Financial Breakthrough Prayers and Declarations
8. By This Time Tomorrow: Uncommon Faith-Filled Words and Prophetic Declarations That Will Change Your Life Forever
9. None of These Diseases: A Reassuring Faith in God's Protection, and Prayers to Walk in Divine Health
10. Listening Prayer: How to Know That Your Prayers Have Been Answered
……………………
ALSO RECOMMENDED
1. Living Debt Free: Bible Secrets and Prayers to Move From Debt to Abundance.
2. Psalm 91: His Secret Place, His Shadow, and the Mystery of His Protection.
………………………………………………..
TO GIVE AND DONATE

To give or donate, click here
When you read my books and follow the instructions, you will encounter God's power to change your life.  You will be empowered to move into your testimony.
Also, when you buy my books to read or purchase them to share with others, you are sowing into our ministry and helping us carry out our evangelistic work.
For instance, every month, we run a food distribution evangelism to widows and low-income families.
So your investment in our books or your FREEWILL DONATIONS  is a great tool for the work in our hands. And we always pray for a great harvest for all our readers and donors
Daniel C. Okpara
For: Better Life World