You'll also get our weekly prayer emails for moving forward on a daily basis.
Just so you know, these books are actually sold on Amazon and they are our highest selling titles. But here, you get them for FREE.
---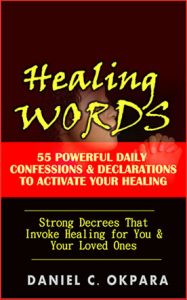 Healing Words:
Words are spiritual forces that have the power to create physical realities. This is not a mere new age philosophy.
It is an infallible truth, etched in the WORD of God. By speaking a certain way, you can fast-track the manifestation of your healing which you have prayed for.
In this book, you'll learn WORDS you should be speaking after praying for healing to release God's healing power in your life or that of your loved ones.
If you have prayed and believed God for your healing, then start speaking these words of healing daily and you'll surely be made perfect in your health.
I believe that God's power can heal us of any ailment we face today. It doesn't matter how serious the matter is. It doesn't matter the name the doctors call it. God's power can set us free.
---
 Learn to Stand in the Gap and Pray for Your Family. Stop the Works of the Devil and Command the Favors of God.
Claim Your Family's Salvation, Deliverance, Healing, Spiritual Restoration, and Breakthroughs
There is an urgent need to pray more for our families these days because the enemy, the devil, is on riot; he has released all his strength against the family system. Remember that the family was what he attacked in the beginning and was able to gain entry to destroy mankind.
Once the devil gains entry into the family, he can ruin the society with ease. The world today is failing because the family system is under the serious attack of the devil.
Is your family experiencing spiritual oppression? Are you having uncommon disagreements in your family? Are the children becoming prodigal? Do you need to release God's power of salvation, healing, and deliverance in your family?
Then beloved, join me in this book and let us pray for your family, Let us release God's grace for salvation, healing and deliverance upon your family and plead for total spiritual restoration.
In this step-by-step book, we explore:
1. How to Free Up Time for Family Prayers and Devotions.
2. 5 Things Family Prayers and Devotion Will Achieve in Your Home.
3. 7 Steps to Setting up an Effective Family Prayers and Devotion.
4. Sample Outline for Morning & Night Family Prayers and Devotions.
5. 70 Powerful Prayers & Prophetic Declarations for Your Family's Salvation, healing, total victory, Restoration and Breakthrough.
This book will give you family bible prayer devotion ideas, family devotional lessons, devotion ideas for busy families and family prayer manual for different kinds of situations.
It's time to experience God in your home every day
---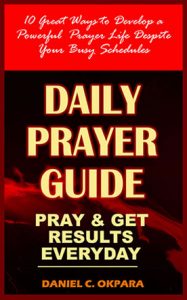 Daily Prayer Guide – A Practical Guide to Praying and Getting Results: 10 Great Ways to Develop a Powerful Personal Prayer Life Despite Your Busy Schedules.
This book will teach you how to pray and get quick results. But more than that, it will show you the easiest and fastest ways to develop a powerful prayer life. You will have a simple but practical prayer outline that will make you really pray.
Years ago, I struggled to understand prayer and how to pray more. I kept struggling with guilt, about not praying the way I should really do. Just like the disciples, I kept crying inside me, "LORD, teach me how to pray!"
This is the situation of many Christians today. Yes. We know we should pray. They preach that to us every Sunday. But the question is, how do we pray? How do we really grow a strong prayer life? How can we make prayer a part and parcel of our lives despite our busyness?
But now, you have a partner to work with.
---
 Praying Through the Book of Psalms: Discover Great Psalms, Powerful Prayers and Declarations for Every Situation: Birthday, Christmas, Easter, Business … Favor, Healing, Exams, Making Decisions, etc.
Experience daily miracles in your health, energy, finance, and favor through praying the book of Psalms.
Discover Powerful Psalms, Powerful Prayers and Powerful Prophetic Declarations for Every Situation in Life: Birthday, Christmas, Easter, Business Ideas, Breakthrough, Favor, Deliverance, Healing, Comfort, Exams, Decision Making…and Many More…
The book of Psalms provides believers with Spirit-inspired prayers that cover the whole range of life. They are simple enough for anyone to relate with, yet deep enough to provide a rich prayer experience with our loving God.
When you pray the Psalms you can be sure you are praying through to Jesus Christ, because He is revealed in all the books.
---
All you have to do is click the button below to download all the books.
---
We'll send you the download link in your email. So make sure your email is correct. Don't worry, we'll not spam you, sell your email or bombard you with unnecessary emails. Only stuff you'll want.