Today, my friend and prayer partner, Rev. Clement Uko, shares with us on the benefits of praise.
But before we proceed, we join every one of you who have sent their praise report to thank God for His faithfulness.
Praising God is indeed a powerful tool for dealing with our self, dealing with the devil, and commanding divine intervention in our situations.
Please continue with this praise challenge. Continue to praise God and pray for others all through this month of February.
When God's name is lifted on the earth, He draws men unto Himself.
The testimonies below will challenge you…
---
God Told Me to Call My Bank
"Pastor, I just want to thank you for your prayer and the weekly devotionals. I am not working since June 2017, but God has been my provider. I am truly blessed.
"My husband, who left me with two kids for the past 9 years, is now committing to take care of us.
"Monday, as I was praising God with all the debt I have, I heard a voice told me to call my bank. I don't have any income coming, and now I have to call my bank. The next day, that same voice told me to call the bank so I did.
I told the banker that I have a bunch of small debt that I have to consolidate.
I was paying $500 a month to keep all the bills pay, and the interest rate are very high, 27.99% – 29.99% for each of the lender.
The banker agreed to consolidate all my bill at 2.5% for 12 months, and my bill dropped from $500 to $23.00 a month. The total interest rate I saved is 88.99% a month to 2.5%. Praise God.
May God continue to do marvellous things for your ministry. I love the work you are doing in the life of God's people.
– Suzette Charles
---
Relieved from Worry
"I thank you for posting this praise challenge. I was feeling so down and worried I don't know what was going on. After praying and praising God I felt so relieved. I also read some chapters in the Bible I am feeling at peace with myself. I thank you. I hope and pray that God will continue to use you and strengthen you. Thank you.
– Omo
---
Clothed With the Garment of Peace
"This has been a challenge!!!
I confess that I found myself making personal prayer requests to the Lord and I had to repent and ask for His forgiveness. I told Him I knew I had to trust that He knew all my needs and that He supplies all my needs. When I said this to Him, He said that I was wearing the garment of trust and that it had a beautiful fragrance to Him and it is a fragrance that the world needs to encounter. He also said because I trust Him, I was also wearing the garment of peace and that the world needs to encounter the fragrance of peace.
Daniel, thank you for this challenge and for the growth that this challenge gives. Your challenge has clothed us with garments that give a beautiful fragrance to the Lord and fragrances that the world needs to encounter.
God bless you richly and continue to use you mightily in Jesus name. Amen and Amen.
– Sheila
---
NOTE: These are real testimonies culled from comments on posts on this website.
How to Participate in the Praise Challenge
Spend 30 (or more) minutes every day in personal praise and thanksgiving.
Spend 10 (or more) minutes every day to

pray for others

.
No matter how pressing your personal needs are, take your eyes away from them, only praise God and intercede for others
 Whatever can inspire praise and worship in you, involve in it this month – get songs, sing, dance, worship, etc.
Be very very watchful. God will speak to you and give you strange ideas and directions this period. Write down every new thought and revelation that God brings to your heart or through a vision or dream
Share your praise report. Share your testimonies
For the full devotional guide on the Praise Challenge, Get the Book on Amazon
Join our Facebook Private Prayer Group
---
The Breakthrough Power of Praise
By Rev. Clement Uko
Thanksgiving and a heart of appreciation draw us closer to God's heart and in return, it gives us access to God's unmerited blessings. As you continue to consciously praise God in the abundance of all things, His infinite mercy continues to perfect all that concerns you.
Let us examine some scriptural examples of praise and how we can apply their benefits and blessings to our everyday life.
1. Your Earth Will Yield Her Increase
 Let the people praise thee, O God: let all the people praise thee. Then shall the earth yield her increase, and God, even our own God shall bless us. God shall bless us, and the end of the earth shall fear Him. (Psalm 67:5-7).
Praise is a major instrument in the hand of God to command your land, your work, your marriage, your relationship, your business, your ministry, your finance, your health to spring forth prosperously! Praise is a mystery that can trigger an uncommon increase in your life and endeavors.
When we praise God, He releases fearful blessings upon our lives that cannot be contended with by the enemy. Praise wets the soil of your plantation, and when this is done, increase and harvest is guaranteed.
We need to stop seeing praise as just a normal part of our Sunday service. It is God's mystery for divine restoration and supernatural harvest. Remember, He inhabits on the praises of His people (Psalm 22:3)
If you truly and really want to experience God every day of your life, then learn to live a lifestyle of praise. Consciously create a suitable and habitable atmosphere for Him to dwell.
---
2.  Experience Supernatural Deliverance
But at midnight Paul and Silas were praying and singing hymns to God, and the prisoners were listening to them. Suddenly there was a great earthquake, so that the foundations of the prison were shaken; and immediately all the doors were opened and everyone's chains were loosed. And the keeper of the prison, awaking from sleep and seeing the prison doors open, supposing the prisoners had fled, drew his sword and was about to kill himself. But Paul called with a loud voice, saying, "Do yourself no harm, for we are all here."
Then he called for a light, ran in, and fell down trembling before Paul and Silas. And he brought them out and said, "Sirs, what must I do to be saved?"
So they said, "Believe on the Lord Jesus Christ, and you will be saved, you and your household." Then they spoke the word of the Lord to him and to all who were in his house. – Acts 16:25-32.
From the above passage, we can see that where the power of prayer stops, the force of praise starts.
Notice that it was at the instance of praise that the foundations of the prison began to shake to the point that every man's bands were loosed from their captivity.
When we truly and sincerely praise God in our difficult situations, it stirs the heavens and commands divine intervention in the most difficult situations.  When we give praise irrespective of the situation we find ourselves, God causes our enemy to tremble and bow before us. He turns us into solution providers to those who have been looking down on us to reproach us.
It is better to praise in every situation than to murmur and complain.
---
3. When you don't know what to do, just praise
And when he had consulted with the people, he appointed those who should sing to the Lord, and who should praise the beauty of holiness, as they went out before the army and were saying:
"Praise the Lord, For His mercy endures forever."
Now when they began to sing and to praise, the Lord set ambushes against the people of Ammon, Moab, and Mount Seir, who had come against Judah; and they were defeated. For the people of Ammon and Moab stood up against the inhabitants of Mount Seir to utterly kill and destroy them. And when they had made an end of the inhabitants of Seir, they helped to destroy one another.
So when Judah came to a place overlooking the wilderness, they looked toward the multitude; and there were their dead bodies, fallen on the earth. No one had escaped.
When Jehoshaphat and his people came to take away their spoil, they found among them an abundance of valuables on the dead bodies, and precious jewelry, which they stripped off for themselves, more than they could carry away; and they were three days gathering the spoil because there was so much. And on the fourth day they assembled in the Valley of Berachah, for there they blessed the Lord; therefore the name of that place was called The Valley of Berachah until this day.
Here, Jehoshaphat was ready for war with his men, but they received a prophetic word saying that they need not to fight in that battle, for the battle is the Lords. They were to sing and praise, and that was it.
Well, it sounded absurd to go to a battle singing and shouting Hallelujah. But that's the voice of God.
Praising God in times of battles and difficulties is handing over your battle to Him to handle what you naturally will not be able to handle yourself.
---
Declarations of Praise
Sometimes you want to praise, but you don't know where to begin. At such times you can search scriptures, God's promises, and praise Him for what He has said concerning you in those verses. Let's see some powerful examples.
Promise: I know the thoughts that I think towards you, saith the LORD, thoughts of peace, and not of evil, to give you an expected end. (Jeremiah 29:11)
Declaration:  Father LORD, I thank You for Your thoughts and Your plans for my life.  They are plans of peace and not of evil. I know You will bring me to my place of expected end. For this I say thank You LORD.
---
Promise: For the Lord GOD will help me, therefore shall I not be confounded: therefore have I set my face like a flint, and I know that I shall not be ashamed. (Isaiah 50:7)
Declaration:  O LORD, I thank You because You are faithful to Your Words.  Thank You because I know Your help is available for me, and You will also help me at all time. Thank You because You are helping me even right now, and I will see it, in Jesus name.
---
Promise: Fear thou not, for I am with thee; be not dismayed, for I am thy God. I will strengthen thee, yea, I will help thee; yea, I will uphold thee with the right hand of my righteousness (Isaiah 41:10).
Declaration:  Heavenly Father, I thank and praise You for Your promise to always be with me and strengthen me. Lord I praise You for Your assurance to uphold me with Your right hand of righteousness against the attacks of wicked ones. I know You will always keep me safe, and uphold me always. Thank you my Father in Jesus precious name.
---
Promise: For thou, LORD, will bless the righteous, with favour will thou compass him as with a shield (Psalm 5:12).
Declaration:  Thank You LORD because You have made up Your mind to bless the righteous. I thank You for gifting us righteousness through Jesus Christ, and compassing our lives with Your favor, as with a shield.
---
Promise: Thou shall arise, and have mercy upon Zion: for the time to favor her, yea, the set time, is come (Psalm 102:13).
Declaration:  O LORD, my Father, I praise You because my time of favour has come! Yes Lord! I thank You because You will have mercy upon me and You will arise for my help this time  Jesus name.
---
Promise: What do ye imagine against the LORD? He will make an utter end: affliction shall not rise up the second time (Nahum 1:9).
Declaration: Dear heavenly Father, I lift my voice and hands to say thank You for Your this day. I give You praise because as You have declared that affliction shall no more arise in my life, I believe it with my whole heart. Thank You my Father, in Jesus precious name. Amen
---
Promise: And they shall fight against thee, but they shall not prevail against thee; for I am with thee, saith the LORD, to deliver thee (Jeremiah 1:19).
Declaration: "Dear heavenly Father, thank You for continually shielding me against the attacks of the wicked. Thank You for always bringing to nothing all the plots of evil people, demons and Satan, against me.  Thank you for my victory over witches and wizards. In Jesus name.
---
Promise: He disappointed the devices of the crafty, so that their hands cannot perform their enterprise (Job 5:12).
Declaration: Father Lord, the wicked has tried severally to device evil against my life and that of my loved ones, but I thank You for not allowing their hands to succeed with their evil enterprise against me nor against my loved ones. Praise the Lord.
---
Promise: They shall not be ashamed in the evil time: and in the days of famine they shall be satisfied (Psalm 37:19).
But my God shall supply all your need according to his riches in glory by Christ Jesus (Philippians 4:19.)
Declaration: My Father my Father, thank You for Your Word that says I shall not be ashamed in the time of famine. I praise You because even in these times, I trust You to supply all my needs supernaturally. Thank You because we have financial abundance in Jesus name
---
Promise: He hath made everything beautiful in his time (Ecclesiastes 3: 11a).
Declaration:  O my Heavenly Father, I praise You, for You are making all things about my life, health, family, children, ministry, career, and home beautiful in Your time. I praise You because my life and my family shall radiate Your light for all to come to accept You, in Jesus name.
Remain in praise. God is at work in your life.
Amen
In His Service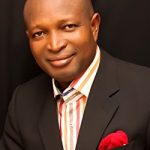 Rev. Clement Uko is the founder and senior pastor of Powerhouse Int'l Christian Centre (PICC). He is the author of the following books:
The Breakthrough Power of Praise
30 Days Healing & Restoration Prayers
7 Nights of Family Deliverance and Prophetic Prayers
Our Latest Books…
These Books Will Change Your Life for Good.
12. 28 Days of Praise Challenge
11. Prophetic Declaration and Breakthrough Prayers for 2018: Pursue, Overtake, Recover All: 21 Days Fasting Guide, Prayers, and Prophetic Declarations for All-round Victory, Restoration, and Breakthrough in 2018.
1. Praise Warfare: A 5-Day Praise Your Way to Victory and Breakthrough Devotional – Overcoming Your Fears, Worries & Battles With the Power of Praise.
2. Deliverance of the Mind: Powerful Prayers to Deal With Mind Control, Fear, Anxiety, Depression, Anger and Other Negative Emotions | Gain Clarity & Peace of Mind & Manifest the Blessings of God
3.  20 Commonly Asked Questions About Demons – Answers You Need to Bind and Cast Out Demons, Heal the Sick, and Experience Breakthrough
4. How God Speaks to You: An ABC Guide to Hearing the Voice of God & Following His Direction for Your Life. Learn over 7 different ways that God is speaking to you with real-life case studies and exercises to get you to hear the voice of God in your daily life.
5. Anger Management God's Way – Bible Ways to Controlling Your Emotions, Healing Your Hurts and Responding to Offenses.
6. When God Is Silent: What to Do When Prayers Seems Unanswered or Delayed.
7.  I SHALL NOT DIE.  – Prayers to Overcome the Spirit and Fear of Death.
8. How to Exercise Authority Over Sickness
9. By His Stripes: God's Promises and Prayers for Healing
10. Strive! Make Things Happen: 40 Things I learned in 40 Years